Imagine a partner who will work within your constraints, stay on schedule, provide regular cloud-based communication and tracking, handle the logistics, dispose of old equipment, oversee project management of construction services needed, and train staff. That's Advanced Material Installation.
BALANCING TECHNOLOGY & LABOR


When selecting an installation company to implement new technology, you might think you need: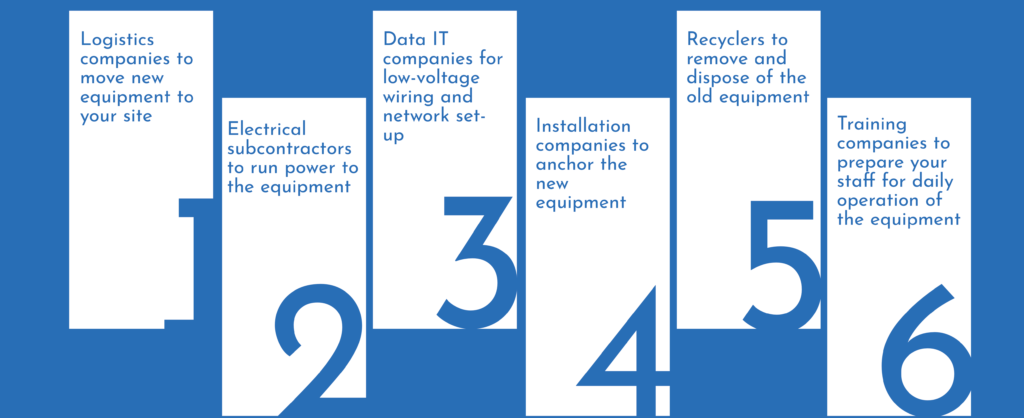 As you can imagine, having to manage all those contractors for installation is a daunting task, but AMI is the solution. Our installation teams have a balance of logistics, mechanical, and technology backgrounds to become a one-stop-shop for your next project.
Advanced Material Installation (AMI) was founded in 2013 to provide large-scale installation services. Our services include establishing warehouses, vehicle maintenance facilities, mezzanines, and aircraft hangers for both commercial and military projects.
AMI manages multiple aspects of the project from pre-construction planning, logistics of the product to the field, installation of the material including on-site modification, and disposal of the old equipment.
The employees at AMI set us apart from our competition. We have a strong history of hiring military veterans and rarely use outside subcontractors. AMI's technicians meet customer's schedules and perform quality work for all our clients.
  
AMI became experts at deploying personnel across the country, meeting the challenges of installation projects from companies like BMW, Target, Michelin, John Deere, Best Buy, Apple, and all branches of the United States military. AMI has been relied on at some of the most demanding job-sites, including nuclear weapons facilities, the F-35 fifth-generation stealth fighter production line, and even the hanger bay for the POTUS Marine One helicopters. We take pride in training our personnel on the installation services needed so they are equipped to handle any situation on the job site.
AMI developed a management plan for field personnel as they travel the country completing installation services.  
This allows AMI to complete large-scale rollouts quickly, leveraging the project management software to stay in contact with each installation location.  
Our ability to manage multiple projects and maintain schedules made us a go-to subcontractor in the retail industry. By using direct employees, instead of contractors, we are able to train a team of personnel that canvas the country and perform reliable, repeatable, quality work at each location. We can cover the country and perform survey and installation work quickly and consistently. Retailers are able to rely on us for large scale roll-outs across the country and achieve an expedited implementation schedule with a faster return on investment.
Imagine cutting your installation time down on a large equipment roll-out! With AMI, you can have equipment rolled out across the country in a matter of weeks or months.
Our logistics background makes AMI the perfect partner to handle moving equipment from the manufacturer to the customer site. We have warehouses across the country to eliminate the high shipping costs of sending equipment directly to retail and customer sites. 
If you have a large-scale equipment roll-out, imagine a partner who will work within your time constraints, stay on schedule, provide regular cloud-based communication and tracking, dispose of old equipment, oversee the project management of any construction services needed, and train the staff. 
That's Advance Material Installation.